Event Date
From:
June 1, 2019 7:00–9:00 pm
Address
Corning Museum of Glass, One Museum Way, Corning, New York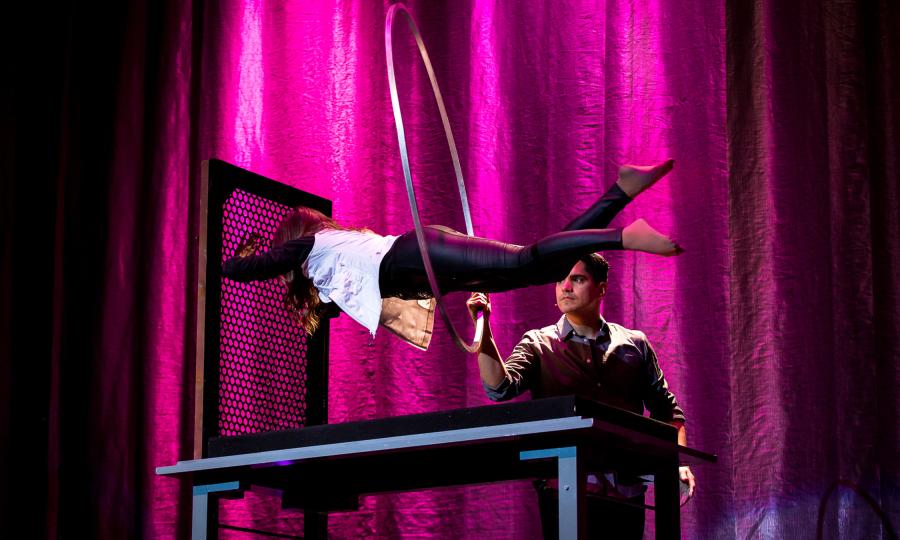 This year, the Pathways, Inc. Annual Fundraiser will delight people of all ages. The Corning Museum of Glass Auditorium will be transformed into a theater complete with a stage and plenty of seating (doors open at 6:30 pm, show starts at 7:00 pm). Plan to bring your whole family!
Following the show, guests are invited to attend a reception in the Courtyard with hors d'oeuvres and a cash bar will be available for those 21 or older.
All funds raised go toward improving and expanding meaningful opportunities for those we serve to develop their own capabilities.
ENTERTAINMENT
Jason Bishop has been seen on NBC's Today Show, the CW Network's Masters of Illusion, and reviewed by The New York Times. Jason was recently featured in a Southwest The Magazine article that shares his childhood story and his path to where he is today.
Watch this short compilation video!
From his astounding "Cage Levitation" and "Walking Through a Brick Wall" to his cutting edge "Teleportation" and "Plasma" illusions, Jason features stunning & original state of the art magic. However, of all of his illusions, his biggest trick was turning a nightmare of a childhood into a dream. Jason's biological parents, whom he barely knew, were heroin addicts. Jason and several of his siblings were placed in St. Joseph's Orphanage in Philadelphia, PA at a very young age. After living in the orphanage for some time, Jason and his siblings entered the foster care system and were placed in several foster homes throughout Pennsylvania until he was 18 years old. It was during these years that he developed an interest in magic. He was recently interviewed in December by CBS News on Sunday Morning with Jane Pauley.
One thing that distinguishes Jason is his virtuosity. Each show features award-winning sleight of hand, exclusive grand illusions and close-up magic projected onto a large screen. No other illusionist showcases such a diverse array of talents. Additionally, the show is delivered with a modern look, attitude, and soundtrack. Bishop cuts through the usual hype and focuses on entertaining audiences with one remarkable illusion after another. With the wit and timing of a professional comedian each routine is presented in Bishop's unique style, with some pieces featuring many more laughs than expected from an illusionist, while other effects demonstrate sleight of hand performed with precision and artistry. His performance abilities have led him from China to Paris and Hollywood to New York City, as well as every state in-between and over 30 countries on 6 continents.
This is a show that you don't want to miss!
BUY TICKETS*
Purchase tickets online today; $50 for adults, $35 children (12 and under)
*Tickets will be available online through May 31 at 12:00 pm.
SPONSORS
Wegmans (Premier)
Brown & Brown Empire State (Gold)
Chemung Canal Trust Company (Gold)
Excellus BlueCross Blue Shield (Silver)
Focused Wealth Management (Silver)
M&T Bank (Silver)
WENY-TV (Silver)
WINK 106 (Silver)
Combined Insurance (Bronze)
Community Bank, N.A. (Bronze)
Davis-Ulmer Sprinkler Co., Inc. (Bronze)
Eastern Managed Print Network (Bronze)
Mengel, Metzger, Barr & Co. LLP (Bronze)
Simmons-Rockwell Auto Dealerships (Bronze)
Techline Communications (Bronze)
Elmira Structures (Friend)
Guthrie (Friend)
John W. Taggart & Son (Friend)
Rimkus, Marciano & Associates, Inc. (Friend)
Radisson Hotel Corning (Friend)
Great Expectations (Supporter)
Hale Contracting, Inc. (Supporter)